Transfer Lift
TGA ARTG No. 225769 | FDA Listing No. D217680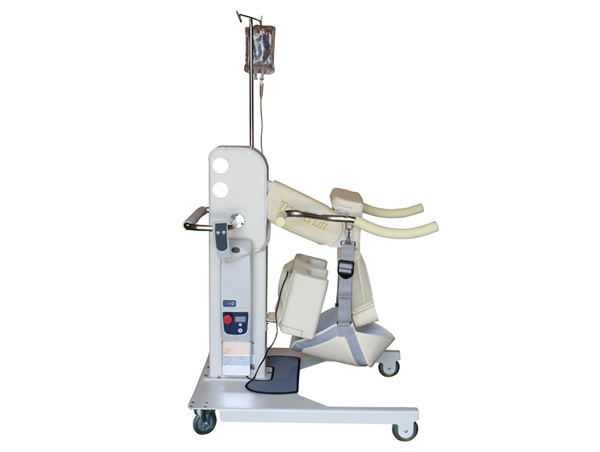 Product Description
The QTransfer Lift is based on an innovative "zero-lifting" design, uniquely offering a safer and more comfortable alternative to all currently available patient lifters and hoists.
As a one-piece utility (not requiring separate sling supports) the QTransfer Lift offers practicality as an all-in-one device, allowing carers to perform numerous transfer functions: seamless seated transfers from wheelchair to bed, bathroom, couch etc. and vice versa. Zero lifting is required from carers hence significantly reducing back strain, enabling a faster, safer and less stressful transferring experience for both user and carer.
Features include an attached remote controller, chest rest & torso support (upper body/front of body), easy pull-out hip support seat, waist & thigh support (lower body/back of body) and an attached IV drip holder (hospital in-patient, post-op use etc.) This patient transfer technology ensures highest standards of safety, comfort and dignity for both user and carer.
Directions for use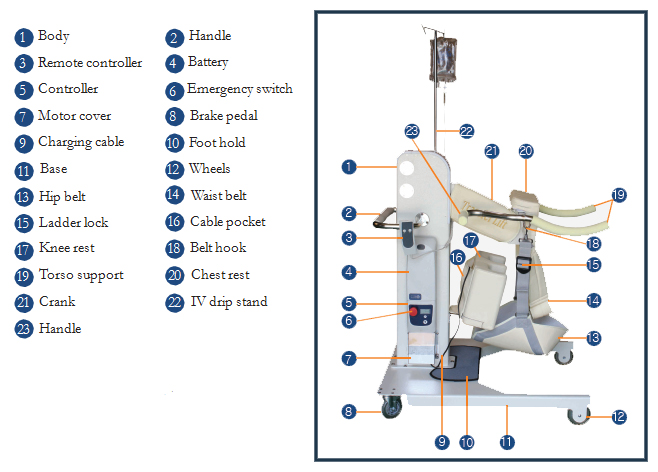 Usage Instructions (in order)
Check the (4) battery status of the lift.
Assist user to an upright seated position, and slide the (13) pull-out hip support seat underneath the user, making sure the fit is snug and comfortable.
Place QTransfer Lift close to the user and press down on the (8) breaks, to lock in position.
Allow user's feet to rest on the (10) foot hold and adjust the (17) knee rest to support user's knees comfortably.
Rest both armpits of the user on the (19) torso support.
Connect both ends of the (15) ladder lock to the (18) belt hook.
Pull (15) ladder lock tightly (downwards) on both sides of the user.
Allow user to stretch their arms forward and grasp the support (23) handles, allowing their chest to rest on the (20) chest rest, then fasten the (14) waist support across the back.
Using the (3) remote controller, switch on the QTransfer Lift and press the Up/Down controls to elevate the user to a comfortable position.
Release the (8) brakes and grasp the (2) transfer handle to manoeuvre the QTransfer Lift to desired location(s).
After transferring the user to their desired location, follow these instructions in reverse order for the user to alight from the QTransfer Lift.
How to Charge
The QTransfer Lift (fully charged) can be used up to 40 times before requiring another recharge.
The battery needs to be recharged on a weekly basis, with each full-charging cycle taking 4 hours.
How to assemble QTransfer Lift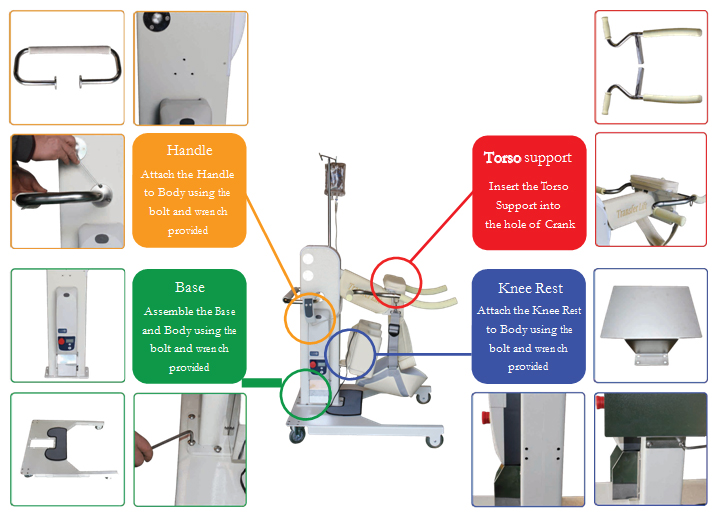 Safety Precautions
Please read all operational directions carefully before use.
Ensure battery is charged in advance, before use.
Please check all belts and accessories are safely and correctly attached, before use.
Do not use on uneven or steeply sloped surfaces.
Do not use unnecessary force or speed on the device, during transfer.
In the case of an emergency during transfer, please utilise the emergency brake.
Do not charge battery whilst in use.
Product Specification
Power
AC 110/240V 50/60 Hz
Size
750(W) X 900(L) X 1130(H) mm
Weight
72kg
Safe operating load
180kg
Materials
Steel, Polyester